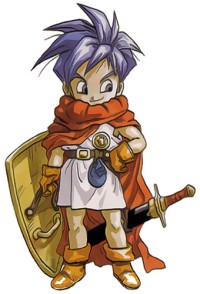 CTNP offers a unique experience each time you visit! The page's top image and the side character image with associated quotation randomize, providing you with a dynamic Chrono experience with every viewing of our site. All quotes are actual lines used in the novel.
"Listen to you! Who was going around telling everyone he raised the Hero, huh?!"
—Tata
To all those who love greatness and believe in the power of hope and ambition, welcome to the home of the Chrono Trigger Novel Project. Within this project is an unmatched passion for the Chrono series, in particular the story within. The CTNP exists with the goal of achieving great things in the future through the mythos of the Chrono series, starting with the novelization of the timeless classic, Chrono Trigger.


CTNP News
10/28/16
—Beta Reading in Process
I reached a significant milestone less than two months ago with the completion of all my edits and changes to the first novel. Now we have an actual, full-length novel. Following this achievement, I've just begun a beta reading process, which is spanning both long-time fans of the game and other readers who have never played Chrono Trigger before. Take a look below at what one of the readers is already saying about the novel:


"You are making me fall in love all over again with characters I already loved. ... I'm not kidding. This is better in an unedited state than most finished, published books I've read."

"I actually halfway want to ask you to lock all 7 heroes in a room for 24 hours, put some magical enchantment on it so they can't kill each other (they get blown back if they try), and just write out the hilarity that ensues."
- Jacob Kuntzman
6/1/16
—

Initate Launch Sequence

After nearly 13 years, the internet home of the Chrono Trigger Novel Project finally has a new website! This site is somewhat simplified, currently without a lot of multimedia content. Its purpose right now is simply to be informative about the novel and its progress.

I'm also proud to announce that CTNP is the new home of the ChronoTrigger.com and ChronoTrigger.net domain names, in addition to our long-standing toponym of ChronoTrigger.info. This step marks one of the first significant financial investments into CTNP's future, an early sign that CTNP is in fact ready for business. That being said, I do want to be clear that CTNP and this website are not officially affiliated with Square-Enix in any way, and that the intellectual properties of Chrono Trigger and Chrono Cross are fully owned and controlled by Square-Enix. This is a fan-made website for a personal project, which ultimately will be proposed for further development, at the sole discretion of the IP holder.

Finally, I want to thank all of the fans and friends who have continued to stand by my side in keeping this dream alive. We look forward to bright horizons and an amazing future for the Chrono brand.
4/29/16
—

Of Things to Come

There is much movement in the Chrono Trigger Novel Project these days; suffice it to say that for now. The novel is being polished in some amazing ways; a new website will be shortly launched; dreams and goals abound for this franchise; and, in due time, we will approach Square-Enix with our proposal to do amazing things with the Chrono series. Right now I am very excited and very driven, and I invite you to share in that excitement and hopeful anticipation of something wonderful to come. Till then, farewell, my friends!
10/25/15
—

Aged Like A Fine Wine

That's how I see the CT Novel these days. I have chosen now to make an update, because there is actually something to report. I've mentioned before how recent years in my life have represented a period of refinement for me both personally and professionally, with many significant changes that have their own direct and indirect effects on how this long-standing project is handled. Well, about 10 days ago I acted on some of that which has been specifically gained on the professional level by placing a call with a well-connected contact in the licensing industry. We specifically discussed the Chrono Trigger Novel and a strategy most likely to finally gain a serious audience with Square-Enix. This development has motivated me to once again make the CT Novel a priority achievement, right up there with my time spent on work and family. That, my friends, is truly the biggest update I could hope to give you at this time.

To address the earlier statement, "aged like a fine wine," to most (myself included), this project may seem to go nowhere fast. In many respects, that is true, but it's all about timing and readiness - not just for me personally but also for the fan base, for Square-Enix, for the story itself, and for the overall market. With the 20th anniversary of Chrono Trigger having passed with barely a nod from SE, it seems safe to say that nothing truly new is going to happen in this series without some kind of "awakening." To me, that perfect awakening is in the retelling of this story in novel format, a completely new and expansive way to broaden its reach and invoke a fresh breath of life. Timing has also worked to the advantage of this novel's quality, which speaks both to my personal growth as a writer as well as canonical developments over time (most recently via the Nintendo DS version of the game) and a wealth of fan analysis that has been extremely beneficial to help tackle loose ends and enigmas. I primarily have both the Chrono Compendium website and the CTNP's own forums to thank for that over the years. This all helps me to tie all available story elements together as neatly as possible, from the original storytelling medium of the SNES to the Playstation to the DS to original Japanese script translations and on into Chrono Cross. Rest assured that all of these are implemented into the novel as carefully as possible, while the novel itself continues to stand with its own identity and contributions to the story we all know and love, and what we hope to achieve for the future. After all, do we not all ultimately hope for a new installment to the series, something which gives us more appropriate closure following Serge's adventure in Cross? I press forward fully convicted that the CT Novel has the power to help affect this change and advance the series in ways we have all hoped to see for so many years now. The popularity of the Chrono series is indisputable. As recently as earlier this month, Clevver Movies listed Chrono Trigger among 7 video games they would love to see turned into a movie (check that out here). Yet, we've seen minimal action from SE on this series, and I have to assume there may be very unique reasons and challenges which contribute to that. Whatever those challenges may be, I now believe that the unique approach of this novel may be just the kind of advancement we need to finally turn the tides and advance this series.

There are actually a few website updates to report, which include content updates to the Personal and Contact pages. Right now my focus is on the novel itself, as finishing this is the most important thing of all. As I'm able to dedicate time otherwise, I will go through the various pages of this site and the forum for updates and highlight them here. Finally, thanks for hanging in there with me and believing in this project. As you can see, I'm still in the fight to make this happen, so keep your eyes peeled for more to come!